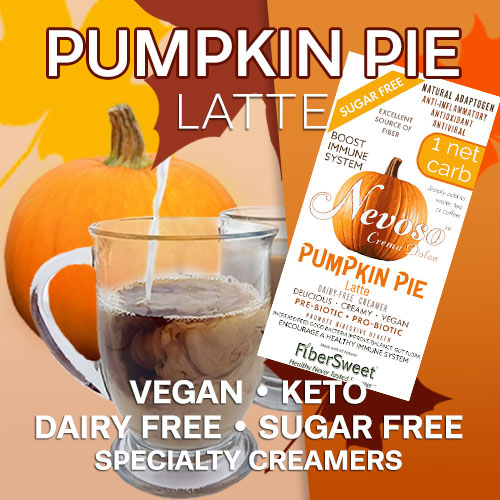 PUMPKIN PIE LATTE
SUGAR-FREE, PERFECT FOR LOW CARB DIETS LIKE THE KETO DIET & IS SAFE FOR DIABETICS
Delicious Hot or Cold. Add to hot water for a soothing warm drink that is Dairy-free and Sugar-free and only 1 Net Carb!
Simply add to Water, Tea or Coffee
PUMPKIN PIE LATTE
ANTI-INFLAMMATORY ANTIOXIDANT ANTIVIRAL
All of the Nevoso™ Creamer / Latte blends are Antiviral,
Antioxidant, Anti-Inflammatory, were designed as a supplement to assists the
body's absorption of nutrients, vitamins/minerals, stabilize blood sugar,
improve glycemic control/insulin sensitivity, promote weight lose/management,
Improve/Balance Gut Flora and Promote Digestive Health, are friendly for your
child's health and can be used to help prevent respiratory infections and ramp
up (BOOST) the immune system, increase immune system function, Increase / Feed
Good Bacteria and decrease harmful bacteria (like Yeast)
Nevoso™ Pumpkin Pie Latte - Smooth and Creamy - Sugar-Free Dairy-Free Latte/Creamer
--BOOST IMMUNE SYSTEM-- AntiViral Anti-inflammatory Antioxidant
ONLY 1 Net Carb - Excellent Source of Fiber
KETO - Perfect for Sugar free, low-carb diets like the Keto diet.

VEGAN - Ideal for the VEGAN diet.
Serving (1 Tbsp (9g) - 6g Dietary Fiber per 1Tbsp serving (24%DV)